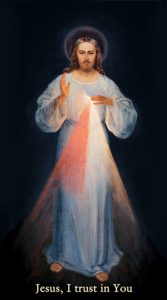 Divine Mercy Prayer Warriors are individuals dedicated to praying the Chaplet of Divine Mercy for the dying or deceased among your family and friends upon request.
Please call or text 517-896-1480 anytime, day or night. You may provide a name or just indicate "prayers requested."
The Chaplet of the Divine Mercy will be recited as soon as possible for that person.
If you would like to be part of the prayer team that prays the Chaplet when a request comes in, please complete the Divine Mercy Chaplet for the Dying sign up form and return it to the parish office or drop in it the collection basket in an envelope marked Divine Mercy Chaplet Sign-Up c/o Al Scieszka and you will be added to the prayer team.
How to Recite the Chaplet of the Divine Mercy
The Divine Mercy website.