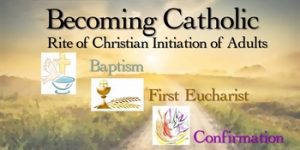 Do you have questions about the Catholic faith?  Have you been thinking of joining the Catholic Church?
Have you been away from the Catholic Church and wonder if you could come back?
Regardless of whether you:
were never Catholic
were raised in a different Christian denomination
had no particular faith
stopped coming to Mass
never finished your sacraments
have gotten a divorce
had children when you weren't married
or any other life event that you think prevent you from being a Catholic
You (and your family) CAN come home to the Catholic Church. We want you to come home.
Please contact our Director of Faith Formation, Teresa Hurd, at 517-482-1346, for more information about becoming Catholic or returning to the Catholic Church through our Rite of Christian Initiation of Adults (RCIA).
Weekly sessions begin in September and run through May, each year.
Children of catechetical age (an unbaptized child who has reached about the age of 7 or older) can be enrolled in our children's religious education classes with their school grade class and receive additional learning opportunities about the Catholic faith that is age appropriate.
There is NO commitment required as you take the opportunity to explore the Catholic Church over the Inquiry Session period (September – November). For information about the RCIA Inquiry or the RCIA process, please review the pdf links below and/or contact Teresa Hurd at hurd@stcas.org.
For some initial information, read Thinking of Joining the Catholic Church (pdf).
Enjoy this video from Ascension Press titled, "What Constitutes a Practicing Catholic?"
---
Each year on Holy Saturday during the Easter Vigil, thousands of people are baptized into the Catholic Church in the United States. Parishes welcome these new Catholics through the Rite of Christian Initiation of Adults (RCIA). Listed below are some questions and answers about RCIA from the United States Conference of Catholic Bishops. 
What are the steps of RCIA?
Prior to beginning the RCIA process, an individual comes to some knowledge of Jesus Christ, considers his or her relationship with Jesus Christ and is usually attracted in some way to the Catholic Church. This period is known as the Period of Evangelization and Precatechumenate. For some, this process involves a long period of searching; for others, a shorter time. Often, contact with people of faith and a personal faith experience lead people to inquire about the Catholic Church. After a conversation with a priest, or RCIA director, the person, known as an "inquirer," may seek acceptance into the Order of Catechumens, through the Rite of Acceptance. During this Rite, the inquirer stands amidst the parish community and states that he or she wants to become a baptized member of the Catholic Church. The parish assembly affirms this desire and the inquirer becomes a Catechumen (more).