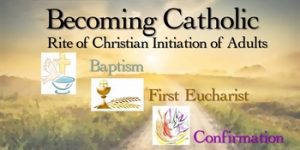 Do you have questions about the Catholic faith?  Have you been thinking of joining the Catholic Church?
Have you been away from the Catholic Church and wonder if you could come back?
Regardless of whether you:
were never Catholic
were raised in a different Christian denomination
had no particular faith
stopped coming to Mass
never finished your sacraments
have gotten a divorce
had children when you weren't married
or any other life event that you think prevent you from being a Catholic
You (and your family) CAN come home to the Catholic Church. We want you to come home.
Please contact our Director of Faith Formation, Teresa Hurd, at 517-482-1346, for more information about becoming Catholic or returning to the Catholic Church through our Rite of Christian Initiation of Adults (RCIA).
Weekly sessions begin Sunday, October 7th following our 11:30 a.m. mass in Room 106  and run through May 2019.
Children of catechetical age (an unbaptized child who has reached about the age of 7 or older) can be enrolled in our children's religious education classes with their school grade class and receive additional learning opportunities about the Catholic faith that is age appropriate.
There is NO commitment required as you take the opportunity to explore the Catholic Church over the Inquiry Session period (October – November). For information about the RCIA Inquiry or the RCIA process, please contact our Director of Faith Formation, Teresa Hurd at hurd@stcas.org.
Enjoy this video from Ascension Press titled, "What Constitutes a Practicing Catholic?"